The gift of spa & wellness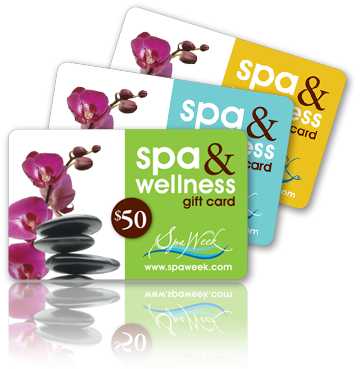 Spa & Wellness Gift Cards and eCards
Spa & Wellness Gift Cards and eGift Cards by
Spa Week are the perfect gift for every AHH...ccasion. With over 7,500 spas and wellness facilities across North America to choose from, they make a great gift for everyone on your list. Spa & Wellness Gift Cards can be used 365 days-a-year for any spa treatment or product, plus, cards never expire!
SHOP GIFT CARDS
Win an e-Gift Card!
Happy Spa-lidays! We know the Spa & Wellness Gift Card is a holiday favorite. As always, we're putting on our holiday best-except this year we're letting you pick the design. Re-pin your favorite e-card design to your "Holiday Gift Ideas" board, and the winning one will be on-sale mid-month! Plus, three winners will be awarded a $50 Spa & Wellness e-Card...
New Red Door in NYC
The already bustling Union Square is getting a red hot new addition this weekend—a brand new Elizabeth Arden Red Door Spa will open its doors Saturday, November 23rd! This new sprawling 10,000 square-foot space will also introduce a unique concept to the Red Door Spa brand. The two level Union Square location will feature two separate entities...
Wild Justice
The gripping conclusion to Armstrong's Nadia Stafford crime thriller series surely won't disappoint fans. This suspenseful thriller is filled with surprises at every turn, a healthy dose of personal drama, and even an unfolding love story.Wild Justice begins as we find our heroine, Nadia Stafford, in a sticky situation. Nadia is your average...