The gift of spa & wellness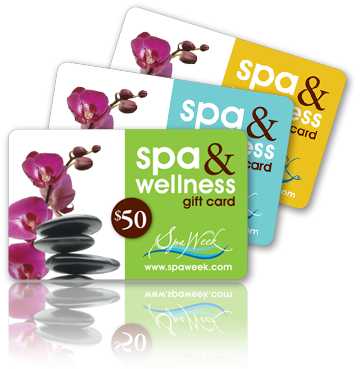 Spa & Wellness Gift Cards and eCards
Spa & Wellness Gift Cards and eGift Cards by
Spa Week are the perfect gift for every AHH...ccasion. With over 7,500 spas and wellness facilities across North America to choose from, they make a great gift for everyone on your list. Spa & Wellness Gift Cards can be used 365 days-a-year for any spa treatment or product, plus, cards never expire!
SHOP GIFT CARDS
Best Flower for Your Sign
What color flowers did you get your mom for Mother's Day? What color do you wish a special someone would get YOU? Here's the color each Astrological sign is supposedly drawn to. Your "power color," if you will. Let us know if you agree or disagree with the flower choices below, based on the colors...
Best Bets for Sunscreen
May is Melanoma Awareness Month – fittingly the same month as Memorial Day Weekend, summer's unofficial kickoff. You know, the time of year when we really need to knock our sun protection skills up a notch. As of 2013, new sunscreen labeling laws have taken effect. Not all SPF formulas are created equal, and some have...
Tips from a Life Coach
Ken Linder is a motivational speaker who developed a method called Life-Choice Psychology. He's helped a lot of people master what he believes is the key to success in life: Controlling our emotions. His new book, Your Killer Emotions, teaches how to harness your feelings to your benefit, and we found his concept to be universally helpful...